Welcome!
Celebrating our 16th year!
We are a full service ad specialty provider that assists you in promoting your business to the world.
We have over 650,000 ways to get the word out through branded items that penetrate the market for you in unique ways.
Let us assist you in finding answers for your events and themes and industry.
Give us a call to get the latest unique options for your business!
Featured Item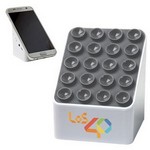 Angle 3 Watt Bluetooth® Speaker
Easy to connect using Bluetooth® V2.1 EDR Features built-in suction cups that can grip small electronic devices 3 Watt Bluetooth® speaker Includes a micro/USB cable, audio cable and user manual Perfec...
$15.99 - $18.29